DM Webhosting Servers are located in San Francisco with ServePath
ServePath owns and operates its own data center which was originally built by WorldCom in 2000. The building also houses "super-nodes" for Verizon and AT&T local phone service in San Francisco, so it is considered an "essential" facility because 911 calls are routed here. We share generators, power, cooling, and fire suppression infrastructure with Verizon, including dual 2 Megawatt generators that support the critical power requirements and operations of the building.
You can rest assured that your servers are secured, managed and monitored in a state-of-the-art facility, and as a customer you have access to the most reliable Support team.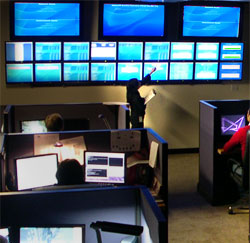 Network Operations Center
ServePath's Network Operations Center (NOC) is built right in the center of our support facilities and is staffed 24/7/365 by certified systems administrators and network engineers. The 21 screens that make up our NOC monitor everything from network traffic and performance to power, temperature and security systems to services, applications, known vulnerabilities and RAID array status on customer servers.
Large on-site NOC with 24/7 Engineers
Real-time monitoring and alerts for all critical systems
Customer level service and application monitoring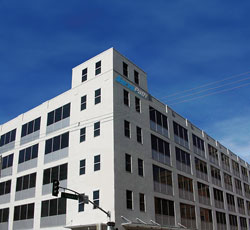 Data Center Building Construction
Our data center is located in the San Francisco Telecom Center, conveniently located just south of San Francisco's Financial District. This 100% occupied telecom building also houses AT&T and Verizon "super nodes".
Secure building originally used for storage of military tanks and equipment
Built on solid bedrock, seismically retrofit in 1999 to meet rigorous City of San Francisco building codes
Six separate fiber entrances with 2 fiber rooms. A large portion of the Bay Bridge Fiber Consortium terminates in the building (cross-bay Fiber).
State-of-the-art redundant systems for power, HVAC, fiber connectivity, seismic precautions and fire suppression.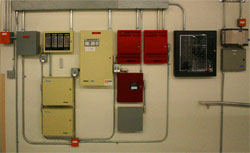 Fire Suppression
Our state-of-the-art fire suppression has three levels of protection.
Halon Fire Extinguishers
VESDA laser smoke detection with dry pipe suppression
Tightly defined preaction zones for localized fire extinguishing
Monitored and maintained by both ServePath and MCI 24X7 on & off-site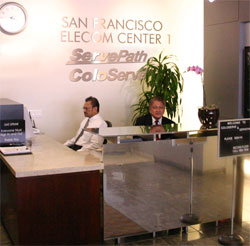 Security
Our data center maintains the highest possible standards for physical security.
24 x 7 security guards at front entrance
Secondary check-in at our second floor data center
24 x 7 systems administrators / NOC on the data center floor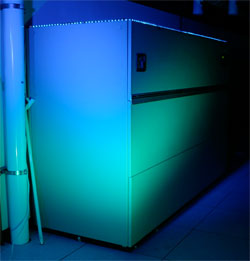 Cooling
ServePath has tremendous cooling infrastructure, with dual redundant chilled water supply loops and multiple Liebert air conditioning units pumping cold air into the pressurized raised floor of our data center.
n+1 Liebert VACs w/n+1 supply loops and chillers:
Up to 300 tons of cooling capacity that runs on MCI's chilled water systems
Raised floor system for efficient distribution of cooling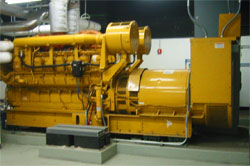 Power Infrastructure
Our data center power is fed by conditioned UPS (uninterruptible power supply) electricity and with the following systems in place to ensure power back-up.
Redundant power feeds with UPS power
2 x 2 megawatt generators that also power Verizon's local phone switches
20,000 gallons of diesel fuel on site, hot-refill ready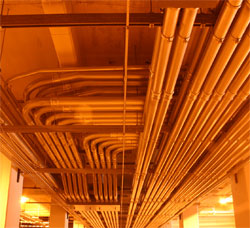 Fiber and Bandwidth Providers
ServePath operates its own Screaming-Fast Network™, featuring multi-homed bandwidth with connections to over 40 networks. We route traffic over major Tier 1 Internet backbones such as UUNet/MCI, Level 3, NTT/Verio, and AboveNet, with no low-quality bandwidth and plenty of network capacity for maximum reliability and scalability.